Proper lighting is essential to enjoying any outside space. Unfortunately, outdoor lighting can get complicated due to a lack of access to electricity. Lack of electrical outlets and built-in light sources can make even the simplest ideas a hassle. Luckily, there are some excellent DIY options for decorative outdoor lighting that don't require electricity. Here are some ideas to help: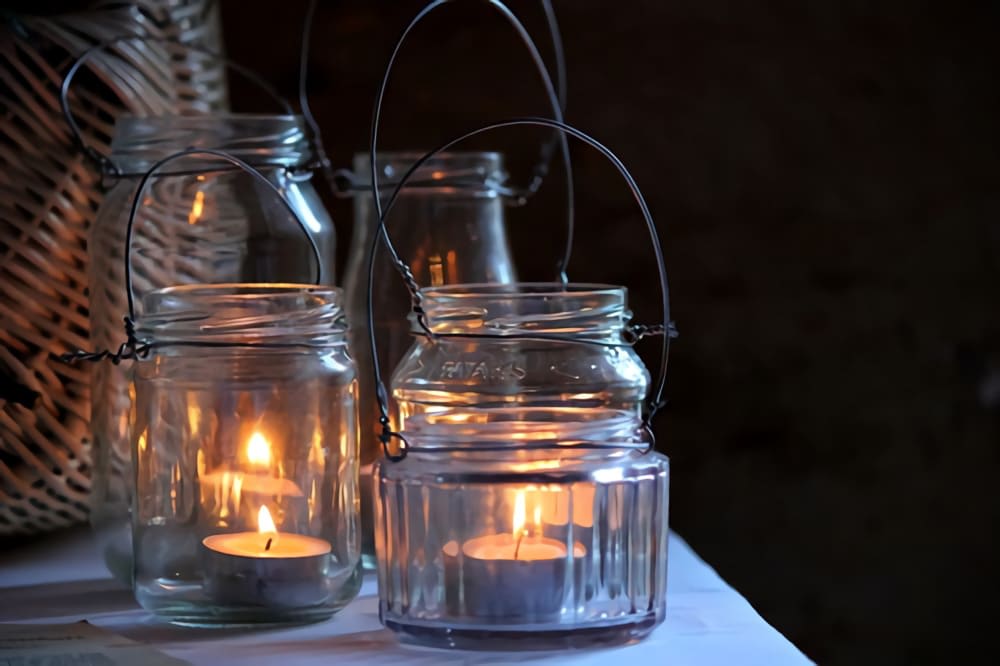 Cedar Block
Solar Lights
Looking for a way to dress up those solar-powered lanterns you have stuck in the lawn? Try creating stylish and rustic bases for them out of cedarwood blocks. These are simple to craft and easy to make in various sizes. Simply use a power drill or drill press to create a hole in the woodblock for the bottom of the lantern, measuring carefully for the cleanest fit. Then, simply add the lantern stake into the hole and you have a completely transformed outdoor lighting aesthetic. Try using blocks of different heights and arranging them in staggered clusters for extra visual interest.


Prefer a different shape to rectangular blocks? Luckily, you can apply this same method to practically anything. You can even create a row of lanterns in a long plank or get creative with reclaimed and raw wood pieces. As long as you create the right-sized hole for the lantern stake to fit, the possibilities are endless.


Votive Candle Bricks
Give new life to old bricks by turning them into candle holders. This is another project you'll need a drill press for, as well as the proper bit to cut through brick. Measure the type of candle or tealight you want to use and create a row of three shallow holes in the side of the brick. Then, add the candles and enjoy the warm light and rustic ambiance.


This same idea can apply to materials other than brick as well. You can add votive candles or tealights to practically everything once you make the right measurements. Just be careful to choose materials that won't break down in contact with molten candle wax.


DIY Tiki Torches
Tiki torches are another fun way to add decorative light completely free of electricity. You have several ways to create them, but one trend also includes recycling glass bottles or mason jars to use as the vessel for your torch. There are many tutorials available for crafting your own tiki torches, but it basically comes down to adding oil and a torch wick of the proper length into the glass container you choose.


Traditional tiki torches are on the ends of tall sticks or poles, which you can DIY easily as well. However, for an alternative option, you can attach them to walls, pillars, or other vertical surfaces using metal brackets. Try using colored glass bottles for some extra aesthetic detail.


Besides these ideas, there are more and more battery-powered lighting solutions on the market every day. However, the above options are very easy to DIY and make use of materials you might already have around the home. With all lighting, make sure you follow safety instructions to the letter to ensure a successful project and happy outdoor living.